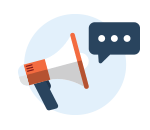 Dispute Management
In these very rare cases, we've got it covered
A well-designed assessment process that is transparent, fair and trusted by the contractor, should not result in many valid disputes. But, if you do get a dispute it's easily managed.
Speak with an expert
Need some more info? View our plans
Trusted by thousands of proactive businesses every day
Upon receiving the SDS, the contractor can raise a dispute and provide their reasons automatically notifying all parties. After consideration, a re-assessment can be issued, or the dispute can be rejected with reasons provided.